How Precise is Investment Casting
ChinaSavvy prides itself in its ability to produce high quality precision investment casting services. Handling each project with a great level of expertise and professionalism, we are able to produce high quality castings that meet your specific requirements.
Because so many metals can be investment cast and, because the process itself offers wider design freedoms than other casting processes, it has become a popular choice among manufacturers as it has an average tooling cost, no drafts are required, an average size range, average tolerance control and an average minimum wall thickness.
ChinaSavvy is able to produce quality castings ranging from less than 5 millimeters to 600 millimeters and, because we understand that needless and over-close tolerances may affect the casting cost and overall economical benefits, we stress the specifications of both functional and critical dimensions.
Geometric Tolerances
Steel, Bronze and Brass Alloys
Note: You can click on the table below to view a larger image.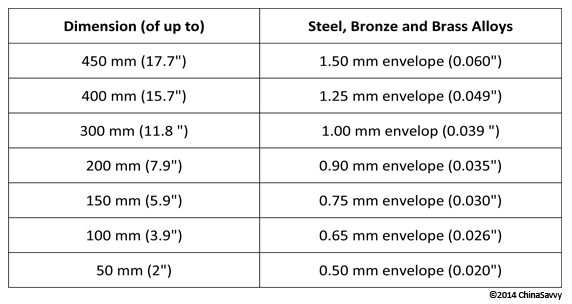 Note: Numbers are rounded off to nearest decimal.
Aluminum Alloys:
Note: You can click on the table below to view a larger image.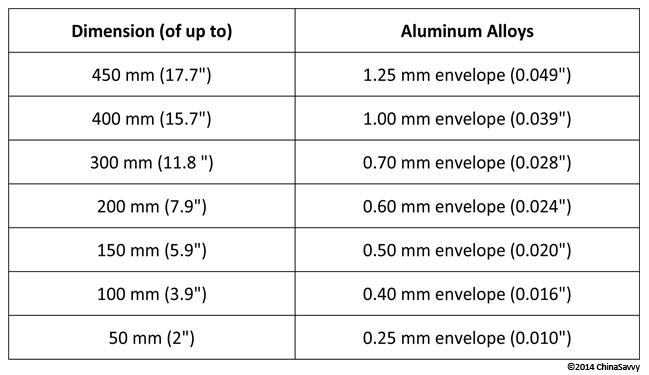 Note: Numbers are rounded off to nearest decimal.
Linear Tolerances
Steel, Bronze and Brass alloys:
Note: You can click on the table below to view a larger image.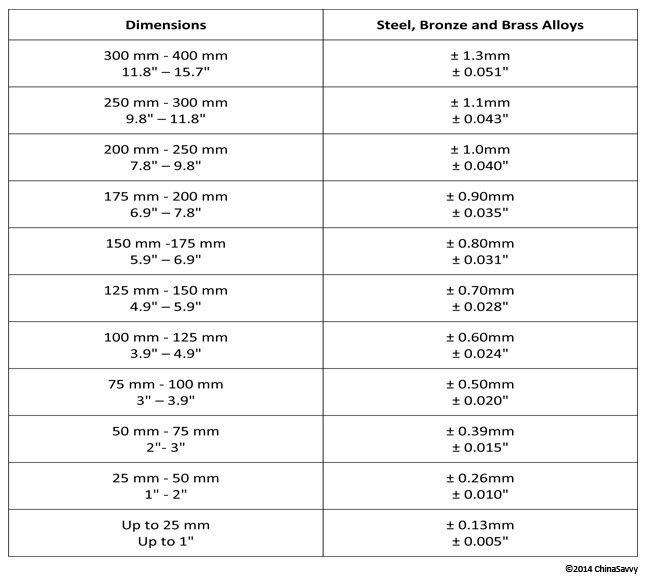 Note: Numbers are rounded off to nearest decimal.
Aluminum Alloys:
Note: You can click on the table below to view a larger image.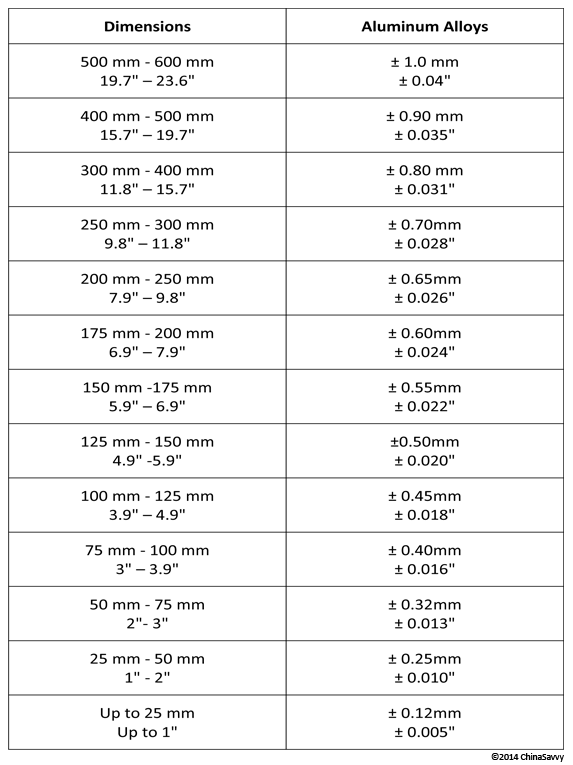 Note: Numbers are rounded off to nearest decimal.
Wall Sections
Investment casting allows for some room when it comes to wall thickness as it is not required to have a uniformly thin section across the entire wall. In some cases, it can be helpful to have thicker sections as it enables the feeding of the metal into the casting at those points.
The wall or section thickness of a casting depends on the type of material used, how complex the casting is as well as the surface area of the casting.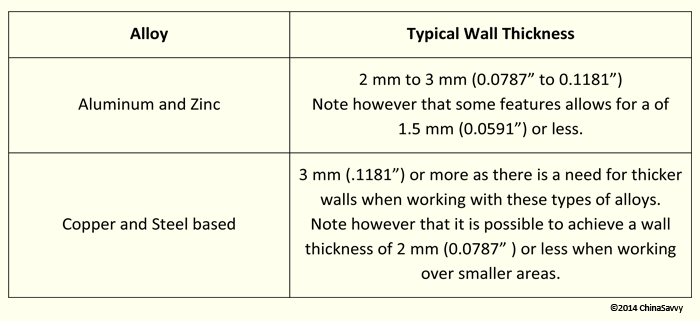 Note: Numbers are rounded off to nearest decimal.
A good design from the start of the process will ensure that the casting produced are sound and, in the long run, more cost-effective.
Undercut Features
Investment casting is the ideal process for components where complex, internal shapes are necessary. Perfect for creating undercut detail, removable inserts can be used and, in cases where these removable inserts cannot be used, ceramic preformed cores and soluble wax cores can be used.
The use of ceramic preformed cores and soluble wax cores in the investment casting process will, at the end of the day, add to the total tooling cost of your project.
Internal Corners
Using the largest fillet radii possible, internal corners in investment casts can be stress raisers. Additionally, the external corners of casting produced through investment casting will not have sharp edges or burrs as those seen in machined corners.
Datum Planes
Chosen in order to fully satisfy the functional requirements of the component being cast, datum planes are rather placed across the centre of casting instead of placing them at one end of the casting.
Tooling Points
While tooling points show where the castings will be picked up for machining, it also enables these same points to be used for dimensional checking.
Holes and Slots
Casting holes and slots are possible, but these should be kept in close relation to the width and diameter of the cast itself. While odd-shaped holes are just as easy to cast as round holes, blind holes need a finer finesse than through holes.
Tooling
Wax patterns are made using aluminum dies, helping to keep tooling costs low. These dies are also easily modified when design changes are needed, and the life of the die itself is also outstanding.
Surface Finish
Precision investment casting is capable of producing a higher quality surface finish than most of the other casting processes applied. This surface finish is in the order of 3.2 microns (N8 or 125CLA).
Finished Machined Areas
Machining is kept to a minimum as quality castings produced through this process are accurate and benefits from the design flexibility offered by precision investment casting. Though the amount of machining required will totally depend on the specifications of our clients, it is something that can be addressed in the casting design stages.
Because we are fully specialized in this field, we are also able to deliver fully machined castings, including services such as surface treatments and threaded inserts.
Back to Main Page: Investment Casting.
Further Suggested Reading:


company profile

contact details


Unit 52, Atcham Business Park, Atcham, Shrewsbury
Shropshire, SY4 4UG
UK


1 Reservoir Corporate Center
4 Research Drive - Suite 402
Shelton, Connecticut 06484
USA


702-705, Building 7
Beijiaochang Henglu 1
Guangzhou 510050
P R China

RAPID PROTOTYPING

Product development and prototyping in metals and plastics.
more info...

videos
See videos of all the major processes we work in. Click VIDEO to view videos. Click PAGE to open corresponding page:
Investment casting:
Sand casting:
Diecasting:
Permanent mold gravity casting:
Lost foam casting:
CNC laser cutting:
CNC bending:
CNC punching:
Aluminum extrusion:
CNC milling:
CNC lathe:
Robot welding:
Manual welding:
Powder coating:
Quality assurance:

World-class Engineering and Manufacturing
ChinaSavvy is a western-owned & managed sub-contract manufacturing and sourcing company providing world-class quality at China prices. We are driven by a passion for quality and excellence.