Fabrication tolerances
Sheet metal fabrication tolerances
Chinasavvy are accurate metal fabricators. We produce high quality fabrications ranging from wall dispensers to radar housings; from protective covers to generator cabinets; from air conditioning housings to brackets.
To maintain our high standard of quality we use the latest technologies including CNC Laser Cutting, CNC Punch machines, CNC Bending machines, Robot Welding, Automated and Manual Powder Coating lines, etc. These machines are not cheap! Many of them are German or American machines imported into China recently.
Experienced engineers and purchasing officers will know, however, that the tolerances specified in drawings have a direct correlation to the manufacturing price of the part or product. Unnecessary blanket tight tolerances on a drawing may well double or treble the manufacturing cost!
This is why we work to two or three different levels of tolerances so that purchasers can benefit from lower prices where looser tolerances permit. This does not mean a drop in quality - simply a broader tolerance where applicable and where specified by our customers. This is how the grades affect pricing:
Grade A - Tightest tolerances:
- Higher scrap rate allowance
- Greater and more frequent QC inspections
- Better tooling and jigs
- More specialized QC equipment
Grade B - Standard tolerances:
- Standard scrap rate
- Standard QA inspections
- Standard tooling
- Standard QC equipment
Grade C - Broader tolerances:
- Low scrap rate allowances
- Random sample QC inspections
- Possible low cost tooling
- Limited QC equipment required
Laser Cutting Tolerances:


Punching Tolerances: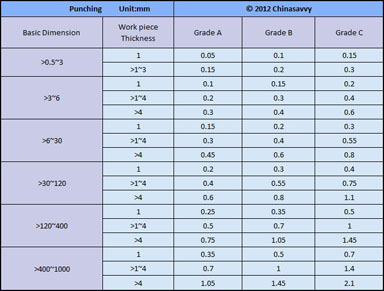 Bending Tolerances: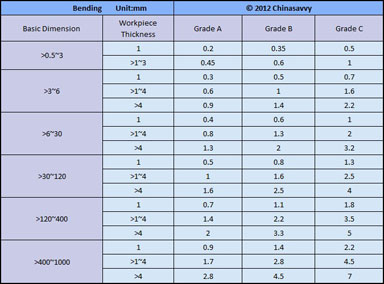 Stamping Tolerances: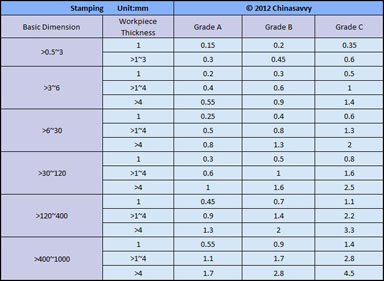 Welding Tolerances:

To go back to Metal Fabrication page Click Here

industrial

contact details


Unit 52, Atcham Business Park, Atcham, Shrewsbury
Shropshire, SY4 4UG
UK


1 Reservoir Corporate Center
4 Research Drive - Suite 402
Shelton, Connecticut 06484
USA


702-705, Building 7
Beijiaochang Henglu 1
Guangzhou 510050
P R China

RAPID PROTOTYPING

Product development and prototyping in metals and plastics.
more info...

videos
See videos of all the major processes we work in. Click VIDEO to view videos. Click PAGE to open corresponding page:
Investment casting:
Sand casting:
Diecasting:
Permanent mold gravity casting:
Lost foam casting:
CNC laser cutting:
CNC bending:
CNC punching:
Aluminum extrusion:
CNC milling:
CNC lathe:
Robot welding:
Manual welding:
Powder coating:
Quality assurance:

World-class Engineering and Manufacturing
ChinaSavvy is a western-owned & managed sub-contract manufacturing and sourcing company providing world-class quality at China prices. We are driven by a passion for quality and excellence.