A Guide to Materials Used at ChinaSavvy
Based in Guangzhou, China, ChinaSavvy's industrial division handles all types of manufacturing processes and works with a number of materials to deliver a high quality product.
ChinaSavvy offers a number of manufacturing processes, each with its own set of materials. Listed below are our available manufacturing processes and the materials available for each:
Metal Fabrication
Our metal fabrication capabilities allows us to work with a number of mild steels, stainless steels, aluminum sheet and profiles, as well as a number of other special alloys.
Within fabrication, ChinaSavvy specializes in aluminum fabrication as well as stainless steel fabrication.
Also a leading mining engineering company specializing in the production of mining equipment, our team applies a number of casting and metal fabrication processes to manufacture a range of mining equipment, including support equipment, standard mining equipment as well as once off specialized pieces.
Aluminum Fabrication
Working with various grades of aluminum, our services in this category range to include:
Stainless Steel Fabrication
Working with austenitic, martensitic and ferritic grades of stainless steel, ChinaSavvy delivers a number of high quality services that include stainless steel tube fabrication as well as TIG Welding.
In terms of stainless steel finishes, we deliver everything from standard milled finishes and mechanically polished and brushes surfaces, to organic coatings and bead blasted finishes.
CNC Machining
Capable of delivering Western quality products at affordable prices, ChinaSavvy specializes in precision CNC machining as well as custom CNC machining services. Working with a number of materials, our team delivers both small and large volume machined parts.
ChinaSavvy employs three types of machines, each offering its own set of benefits to the manufacturing process in terms of cost and quality.
A wide variety of both metals and plastics can be CNC milled and CNC turned, including:
Aluminum
Nickel
Titanium
Brass
Steel
Zinc
Magnesium
Thermoset Plastics
Investment Casting
Working with mild steel, alloy steel, stainless steel and bronze, ChinaSavvy offers investment casting services including hollow investment castings.
Suitable for the widest variety of of alloys, this casting process uses both ferrous and non-ferrous metals. Listed below are the metals that can be investment cast at ChinaSavvy:
Aluminum Alloys
Carbon Steel Alloys
Cobalt / High Nickel / Magnetic Steel Alloys
Copper-based Alloys
Ductile Iron
Precipitation hardened Steel Alloys
Stainless Steel, more specifically the 300 and 400 series alloys
Tool Steel Alloys
Lost Foam Casting
Generally speaking, all types of ferrous and non-ferrous metals can be used as a lost foam casting material. Do note however that pouring temperatures of above 1 000°F is required as the foam pattern used must 'dissolve' so that the casting can be produced.
Some of the more commonly cast metals in lost foam casting include aluminum alloys, steels, nickel alloys and cast irons, while the less frequently used materials include stainless steel and copper alloys.
Metal Die Casting
In die casting, four alloys are popularly used. These alloys include aluminum, magnesium, zinc and brass.
Aside from being lightweight and relatively easy to cast, aluminum alloys also offer a number of other beneficial properties. Some of these properties include a good resistance to corrosion, a high thermal and electrical conductivity, a low density and high dimensional stability, as well as a good strength and stiffness to weight ratio. Learn more about aluminum alloys used in die casting.
Almost lighter than plastic and suitable for use in both cold and hot chamber machines, magnesium offers it own set of beneficial characteristics. Some of these characteristics include a very low density, a high strength to weight ratio, good finishing characteristics, as well as a high thermal and electrical conductivity. Learn more about magnesium used in die casting.
Zinc, one of the easiest alloys to die cast, offers a better alternative to machined, fabricated and pressed parts in terms of cost. Aside from having a low melting point which effectively helps to prolong die life, zinc also offers other beneficial characteristics including a high hardness and strength, the ability to form very thin walls, a high dimensional stability and accuracy, as well as a good impact strength. Learn more about zinc used in die casting.
Spark resistant, brass is an aesthetically pleasing alloy and offers a number of beneficial characteristics ranging from a fair dimensional accuracy to an excellent resistance to corrosion. With a high electrical conductivity, the finishing characteristics for brass are excellent for mechanical finishing processes, chrome plating and black chrome plating. Learn more about brass alloys used in die casting.
Metal Injection Molding
With metal injection molding, a number of raw materials are used in the process. These raw materials include metal powders as well as binders. In terms of alloys, the following materials can be injection molded:
Cobalt Alloys
Copper Alloys
High-speed Steels
Irons
Low Alloy Steels
Nickel Alloys
Stainless Steels
Titanium Alloys
Tungsten Alloys
Using a powdered metal in the molding process, these powders should have, among other characteristics, a predominantly spherical shape, no agglomeration, dense and free of internal voids and small in particle size in order to aid in the rapid sintering process. Learn more about the materials used in injection molding.
Permanent Mold Gravity Casting
Working with a variety of metal alloys, ChinaSavvy's capabilities include producing magnesium, copper and aluminum permanent mold castings.
Looking at magnesium permanent mold castings, one can see that almost all of the magnesium alloys suitable for use in sand casting, is suitable for this casting process as well. Though the most predominant method for casting magnesium is die casting, the following alloys can be casted using permanent mold gravity casting: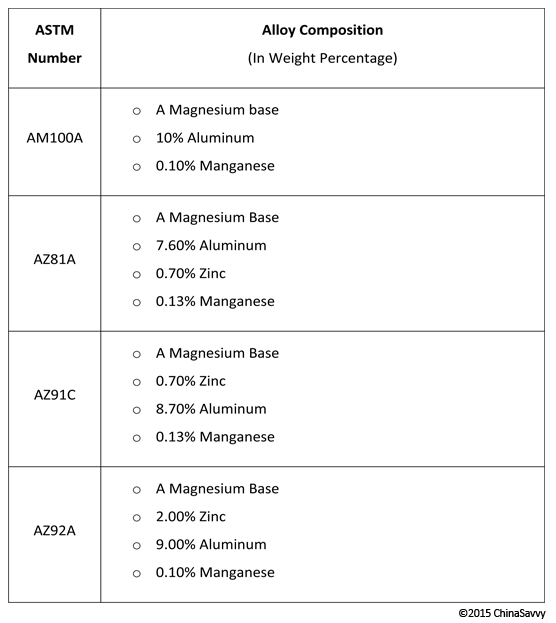 *Note: You can click on the table to view a larger image.
For aluminum mold castings, ChinaSavvy works with the following alloys: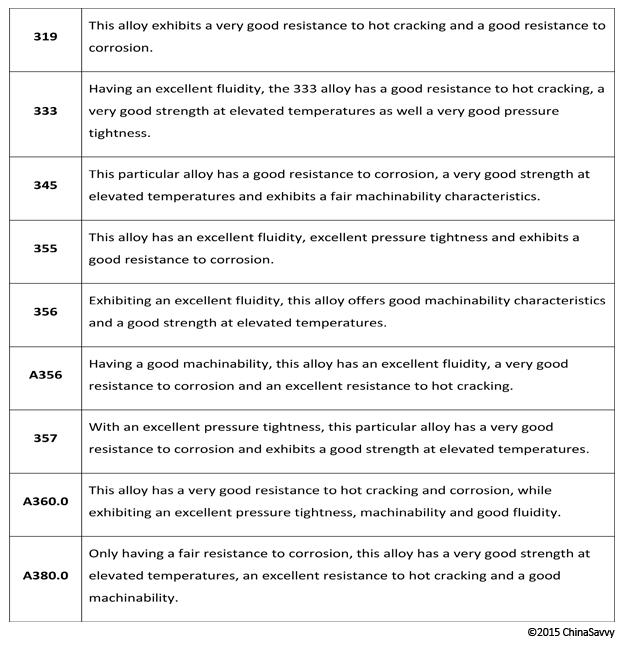 *Note: You can click on the table to view a larger image.
Learn more about aluminum alloys used in permanent mold gravity casting.
The use of copper based alloys in the permanent mold casting process is limited due both the temperature and flowability requirements of the process. The copper alloys used at ChinaSavvy include:
Engineering Alloys: This group includes nickel silvers, silicon brasses and aluminum bronzes.
High Conductivity Coppers: Used for electrical components, these coppers are susceptible to oxygen pickup and have high melting points.
Yellow Brasses: More specifically C85500, C85800 and B-2, these yellow brasses are the most widely used copper based alloys in Europe and the United States for decorative items such as faucets.
Learn more about copper based alloys used in permanent mold gravity casting.
Sand Casting
At ChinaSavvy, we offer both ferrous and non-ferrous sand casting services working with a number of materials that include: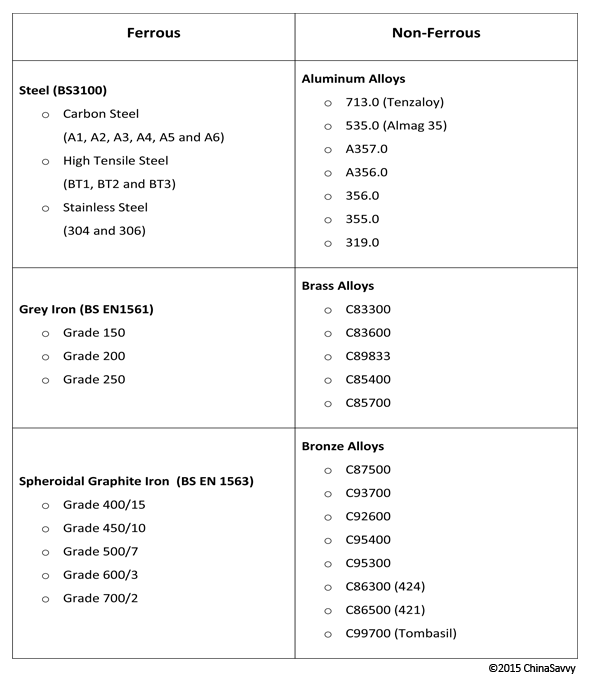 *Note: You can click on the table to view a larger image.
Learn more about metals that can be sand casted.
Metal Sintering
A highly specialized sintered metal manufacturer, ChinaSavvy's capabilities include the use of a great number of sintering powders to produce sintered parts and components that meet Western quality standards.
Some of the materials (or powders) used in metal sintering by ChinaSavvy includes:
Iron and Carbon Steels
Iron-Copper and Copper Steels
Iron-Nickel and Nickel Steels
Low Alloy Steels
Sintered Hardened Steels
Diffusion Alloyed Steels
Copper Infiltrated Steels
300 Series Stainless Steels
400 Series Stainless Steels
Soft Magnetic Alloys
Copper and Copper Alloys
Learn more the materials used in metal sintering.
Aluminum Extrusion
A highly recognized aluminum extrusion supplier active within the industry today, ChinaSavvy works with various grades of aluminum when it comes to extrusions. These grades include the 1000 Series, 6000 Series and 7000 Series aluminum grades.
An essentially pure aluminum alloy, the 1000 Series contains a minimum of 99% aluminum content by weights and has the following characteristics:
Low strength
High resistance to corrosion
Non heat treatable
High electrical and thermal conductivity
Alloyed with silicon and magnesium, the 6000 Series is one of the most commonly used extrusion alloys and is used for most of the load bearing constructions, both at sea and on land. The 6000 Series features the following characteristics:
Medium to high strength
Good resistance to corrosion
Easily welded
Can be solution heat treated at its extrusion temperature
The 7000 Series is the most used construction alloys and boasts the highest strength. This series features the following characteristics:
Obtains a lower reduction of strength in heat affected zones (as compared to the 6000 Series alloys)
A good weldability
Note that the 7000 Series alloys are not as resistant to corrosion or as formable as the 6000 Series alloys. Learn more about the aluminum grades used in extrusion.
Back to Main Page: Materials and Processes.
Further Suggested Reading: