Metal Injection Molding Tolerances
Metal injection molding tolerance standards are the specified allowance on deviations in various parameters, including angles, weight, dimensions and shape. Based on the process, a maximum and minimum limit on thickness is present, allowing manufacturers to maximize the control in setting metal injection molding tolerances.
Noted below is achievable on critical dimensions and under favorable molding conditions. A number of factors can influence the dimensional accuracy of a part, some examples of this being parting lines and varying wall thicknesses.
Typical dimensional tolerances (critical measures):
Note: You can click on the table below to view a larger image.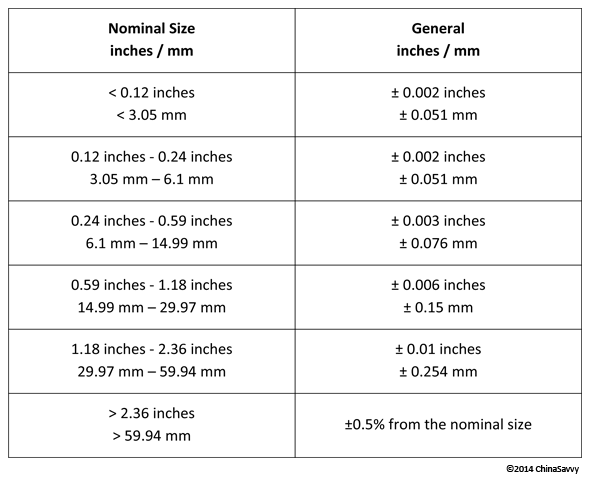 Note: Numbers rounded off to nearest decimal.
In cases where tolerances for parts are specified, the following should be kept in mind:
When manufacturing MIM parts, tolerances should should not be closer than absolutely necessary or required for the optimum performance of the part.
When close tolerances are on several dimensions of the part, the cost per part will increase.
For parts that have major wall thickness variations, close tolerances should not be specified.
Close tolerances should not be specified across a parting line.
Close tolerances should not be specified for dimensions that are controlled by sliding cams or moveable cores.
Aside from the dimensional accuracy , the following should also be considered:
Angular Tolerances
Surface Finish
Radii
Depending on the type of material molded, the surface finish can be Ra = 4µm - 20µ. Metal mold injection materials, on the basis of of carbonyl iron, that has a particle size of less than 10µm will tend o exhibit a smoother surface finish than that of materials made from atomized steel powders, as the atomized steel powders are much coarser.
Surface finishes of parts can be further improved by making use of conventional processes ranging from burnishing and lapping, to grinding.
The radii of parts produced using this process should at least be 0.3 millimeters (or 0.011811 inches) .
Typically tolerances for MIM parts, as sintered, are ±1% of the total linear dimension or geometry. Below you will find the typical metal injection molding tolerances of MIM feedstock:
Note: You can click on the table below to view a larger image.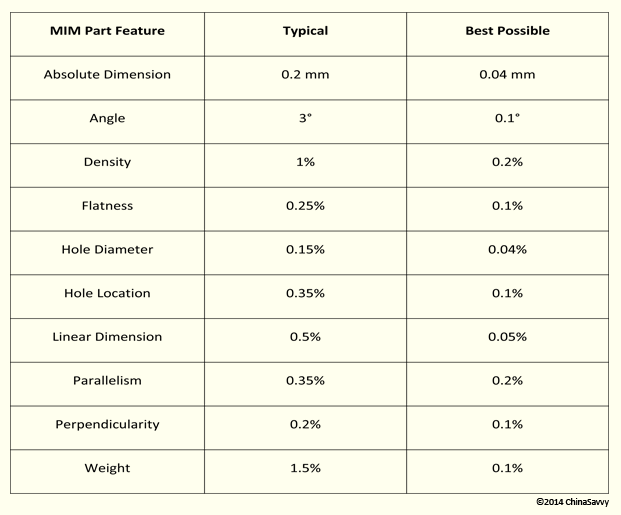 Suggested metal injection molding tolerances:
Note: You can click on the table below to view a larger image.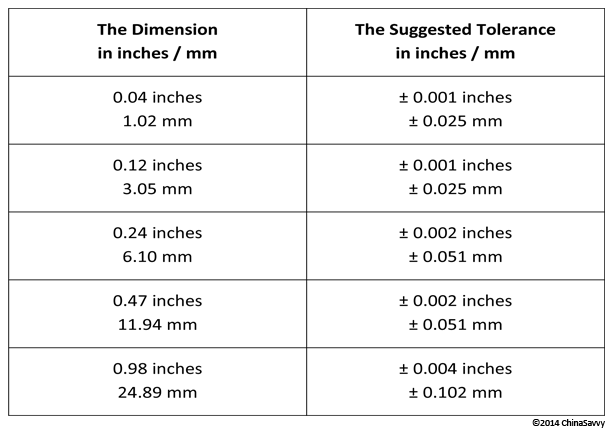 Note: Numbers rounded off to nearest decimal.
Learn more concerning tolerances, design and wall thicknesses for MIM parts by visiting our Metal Injection Molding Wall Thickness page.
Back to Main Page: Metal Injection Molding
Further Suggested Reading:


company profile

contact details


Unit 52, Atcham Business Park, Atcham, Shrewsbury
Shropshire, SY4 4UG
UK


1 Reservoir Corporate Center
4 Research Drive - Suite 402
Shelton, Connecticut 06484
USA


702-705, Building 7
Beijiaochang Henglu 1
Guangzhou 510050
P R China

RAPID PROTOTYPING

Product development and prototyping in metals and plastics.
more info...

videos
See videos of all the major processes we work in. Click VIDEO to view videos. Click PAGE to open corresponding page:
Investment casting:
Sand casting:
Diecasting:
Permanent mold gravity casting:
Lost foam casting:
CNC laser cutting:
CNC bending:
CNC punching:
Aluminum extrusion:
CNC milling:
CNC lathe:
Robot welding:
Manual welding:
Powder coating:
Quality assurance:

World-class Engineering and Manufacturing
ChinaSavvy is a western-owned & managed sub-contract manufacturing and sourcing company providing world-class quality at China prices. We are driven by a passion for quality and excellence.