Sand Casting Materials Used at ChinaSavvy
ChinaSavvy offers high quality and reliable sand casting services, pouring a variety of sand casting materials to suit your project requirements.
We offer both ferrous and non-ferrous casting services, working with the following materials:
Non-Ferrous Sand Casting Materials
Aluminum Alloys used in Sand Casting
Note: You can click on the table below to view a larger image.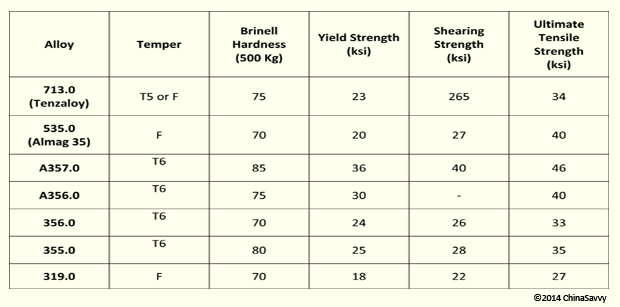 Common applications of Aluminum alloys used in Sand Casting:
713.0 (Tenzaloy)
Sand casted products madeof this aluminum alloy includes pumps, mining equipment,automotive and trailer parts.
535.0(Almag 35)
With the superior ductility it offers, this aluminum alloy is a good replacement for malleable irons. This alloy is a high strength alloy and commonly used to manufacture aircraft components -components that need a high dimensional stability as well as a high strength.
A357.0
A357.0 is commonly used for aerospace castings because of its high strength.
A356.0
A356.0 is commonly used to manufacture a number of structural parts (including high strength air- and space frame parts) as well as parts in truck chassis, high velocity blowers and impellers, and machine parts and components.
356.0
Automotive transmission cases, pump bodies, flywheel castings and oil pans are manufactured from this aluminum alloy.
355.0
Used to manufacture various components including crankcases, air compressor pistons, water jackets and printing presses.
319.0
This aluminum alloy is used to produce a number of components including gas and oil tanks, various engine parts, engine oil pans, engine crankcases and typewriter frames.
If you would like more information on aluminum grades, please visit our Aluminum Grades for Sheet Fabrication and Chinese Equivalents page.
Brass Alloys used in Sand Casting
Brass, an alloy that typically consist of zinc and copper, red brass typically consist of 75% to 80% copper and between 5% and 15% zinc. Yellow brass typically consists of between 65% and 75% copper and 25% to 35% zinc.
Note: You can click on the table below to view a larger image.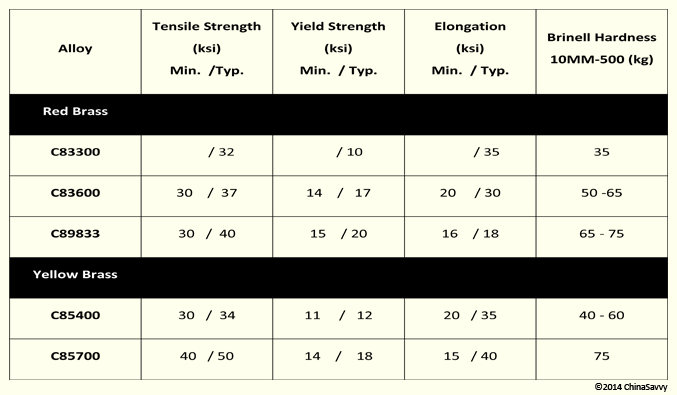 Common applications of Brass alloys used in Sand Casting:
C83300
C83300 is used to manufacture sand casted products such as electrical hardware parts and components.
C83600
This alloy is used to produce low pressure valves, hardware, fittings and general miscellaneous parts and components.
C89833
This brass alloy complies with the United States Environmental Protection Agency as well as the Safe Drinking Water Act, and is used to manufacture valves and fittings.
C85400
This brass alloy is most commonly used to produce ornamental hardware, furnishings and fittings.
C85700
C85700 is commonly used to produce ship trim, fittings, flanges for plumbers and ornamental hardwares.
Bronze Alloys used in Sand Casting
At ChinaSavvy, we work with both aluminum bronze alloys as well as tin bronze and silicon bronze alloys.
Note: You can click on the table below to view a larger image.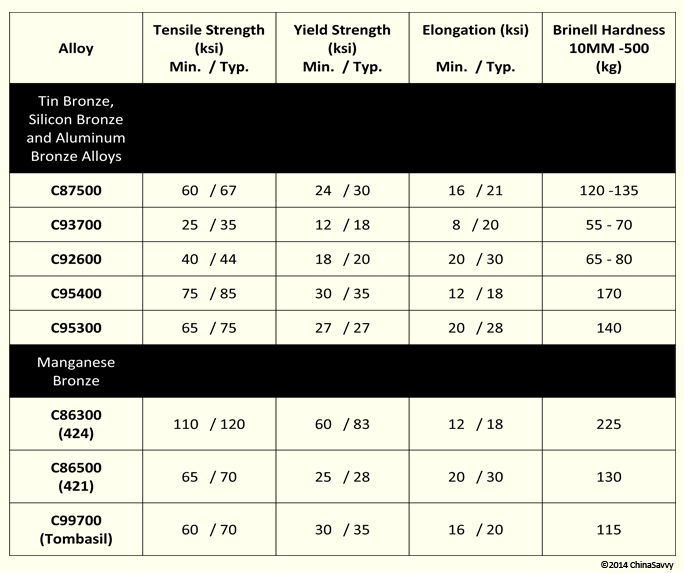 Common applications of Bronze alloys used in Sand Casting:
C87500
Sand casted products made from this alloy is commonly used in welding applications as well as for corrosion brazing.
C93700
With an acid resistance to Sulphite fluids, this alloy is used to produce high speed bushings.
C92600
C92600 is used to produce pump pistons and screw nuts, as well as heavy duty bearings.
C95400
This particular alloy is used to manufacture worm gears operating under heavy loaded conditions and low speeds.
C95300
C95300 is used in the parts of mining machines as well as to produce gears and cams.
C86300(424)
This alloy is commonly used to produce parts and components such as heavy load bearing gears and screw down nuts.
C86500(421)
C86500 alloy is used to manufacture machinery parts and is used as a substitute for malleable iron and steel.
C99700(Tombasil)
Used to produce marine hardware and corrosion resistant components, this alloy is also used to make ornamental castings, and eye bolts.
Ferrous Sand Casting Materials
Steel (BS3100)
Cast steels offer a range of beneficial properties, delivering sand casted products that featuring a high tensile strength and a high resistance to wear. It is a suitable material for applications where extreme conditions and temperatures are present.
Note: You can click on the table below to view a larger image.

Grey Iron (BS EN1561)
One of the most widely used cast irons, Grey Iron is used in the production of heavy duty industrial components as well as household appliances. This metal has an excellent resistance to corrosion, a high strength and is easily machinable.
Note: You can click on the table below to view a larger image.

Spheriodal Graphite Iron (BS EN 1563)
Known as ductile cast iron or SG, Spheriodal Graphite Iron is used to produce parts that has to carry heavy loads or resist impacts. In some applications it is also a suitable substitute for malleable iron.
Note: You can click on the table below to view a larger image.

Back to Main Page: Sand Casting
Further Suggested Reading:


company profile

contact details


Unit 52, Atcham Business Park, Atcham, Shrewsbury
Shropshire, SY4 4UG
UK


1 Reservoir Corporate Center
4 Research Drive - Suite 402
Shelton, Connecticut 06484
USA


702-705, Building 7
Beijiaochang Henglu 1
Guangzhou 510050
P R China

RAPID PROTOTYPING

Product development and prototyping in metals and plastics.
more info...

videos
See videos of all the major processes we work in. Click VIDEO to view videos. Click PAGE to open corresponding page:
Investment casting:
Sand casting:
Diecasting:
Permanent mold gravity casting:
Lost foam casting:
CNC laser cutting:
CNC bending:
CNC punching:
Aluminum extrusion:
CNC milling:
CNC lathe:
Robot welding:
Manual welding:
Powder coating:
Quality assurance:

World-class Engineering and Manufacturing
ChinaSavvy is a western-owned & managed sub-contract manufacturing and sourcing company providing world-class quality at China prices. We are driven by a passion for quality and excellence.