Stainless Steel Tube Fabrication
Stainless steel tube is commonly used in applications where a high resistance to corrosion, a low maintenance cost and versatility form part of the set requirements.
Today, there are several standards in place in order to ensure proper use and the manufacturing of different grades of stainless steel tubing.
The two main categories into which tube is divided are:
Also note that you can learn more about fractional stainless steel tube sizes and bending stainless steel tube on this page.
Welded Stainless Steel Tubing
These stainless steels require that the alloys be melted according to certain specifications. These specifications, in turn, depends on the grade as well as how it will be used. The stainless steel strips (from which the tube will ultimately be formed), is produced by either hot formed or cold formed coil.
Tube manufactured from cold formed stainless steel will ultimately have strong mechanical characteristics and a smooth surface finish. Furthermore, these types of tubing will also deliver closer tolerances as compared to stainless steel tubing manufactured from hot formed coil.
Note however that the welding process for both hot and cold rolled coil are the same. The process in short is as follows:
The coils are first separated into designated widths, followed by forming processes.
To seal the seams of each formed stainless tube, welding rolls are used. These rolls also help to prevent the occurrence of tearing during welding processes.
After the weld has been completed, the process will move on to the weld bead conditioning step. Weld rolldown is commonly applied for thicker tube walls, whereas thinner tube walls will involve weld forging.
Sizing will now occur. This entails that the tube meets the set requirements in terms of diameter, straightness and roundness.
The tube is then cut to length - often called the cutoff step. Here the tube will be cut to meet length requirements by making use of several processes, the most common cutting processes being shear cutting and abrasive cutting.
Seamless Stainless Steel Tubing
Where welding is not applied, seamless stainless steel tube is manufactured by making use of piercing, extrusion or gun drilling.
Piercing:
Not an effective process for bars that contain more than 12% chromium, this process involves the piercing of holes into a stainless steel bar. After the holes have been pierced, the bar is rolled and heated, enabling it to take on a tubular form.
Extrusion:
This process involves a stainless steel bar to be fed into a tube and worked through a die. It is a commonly used method for seamless stainless steel tubing as it does not discriminate against the metal content (as seen with piercing) and produces tube in an effective manner that meet certain set requirements.
Gun Drilling:
Capable of producing the highest quality stainless tubes, this process involves the insertion of a round bar into a straight flute drill. It is however a more expensive method, but the delivered tube typically outperform rubes manufactured using other processes.
In cases where tubes have a rare composition or an unusual dimension, cold forming processes may be employed. Examples of this would be the application of cold drawing and cold pilgering.
Cold Pilgering is a process used in order to reduce the tube's overall wall thickness, whereas Cold Drawing involves the use of a die to ultimately alter the shape of the tube.
You can learn more about welding stainless steel by visiting our TIG Welding Stainless Steel page.
Fractional Stainless Steel Tube Sizes
Note: You can click on the table below to view a larger image.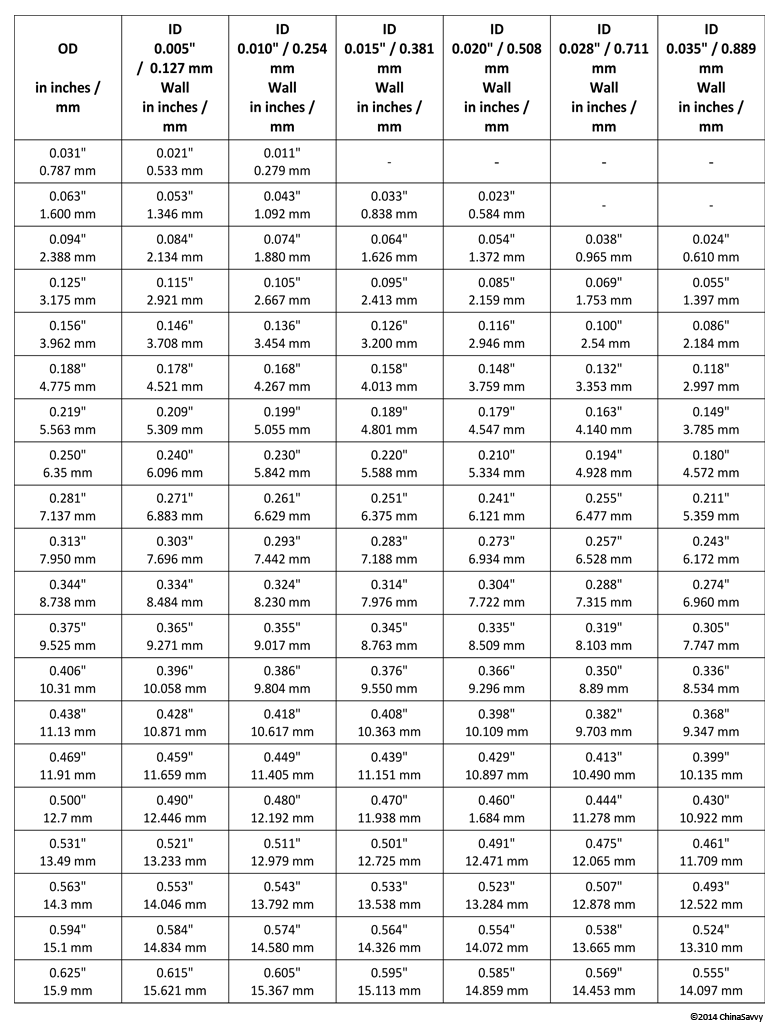 Note: Numbers rounded off to nearest decimal.
Bending Stainless Steel Tube
In tube bending, it is the common objective to form a round bend that is smooth. Bending is a relatively easy process to complete if the tube has a heavy wall thickness and is bent to a large radius.
Determination of a heavy or thin wall thickness is determined by the wall factor. This calculation compares the wall thickness of the tube to its wall outside diameter as follows:
Wall Factor = Tube Outside Diameter ÷ Tube Wall Thickness
In cases where the wall factor is more than 30, the tube will be categorized or classed as a thin wall tube. In order to determine the degree of the bend, the following calculation is applied:
Degree of Bend = Bend Centerline Radius ÷ Tube Outside Diameter
These two calculations are crucial in order to determine the severity of the bend. With small tube diameters that have thick walls, very little to no interior support is necessary during bending processes, but as the diameter of the tube increases the tube itself becomes weaker.
In cases where tube walls are thinner and a tight bend radius is required, distortion as a result of bending may occur. The use of mandrels now become necessary.
Important factors to consider when bending tubes:
Ductility
A measure of any material's ductility is its elongation at fracture. When it comes to tube bending, these elongation values will determine to what radii tubes can be bent. Materials with a higher ductility (such as austenitic stainless steels) are able to be deliver narrower bends.
Work Hardening
Austenitic steels, aside from having excellent ductility, also has a work-hardening tendency. In tube bending, this tendency means that more power is needed in order to achieve the bend. As an example, austenitic stainless steel needs an estimated 50 percent more power to achieve a bend than that need by carbon steel.
Springback
Stainless steel has a higher springback when compared to carbon steel. Normally, springback is proportional to yield strength plus tensile strength.
In austenitic stainless steels, the stabilizing elements along with the higher carbon content means that the forming properties for Grade 321 and Grade 347 are less favorable than that of Grade 304.
Note on Bending Rectangular and Square Stainless Steel Tube:
In cases where rectangular tube is bent, less distortion occurs when it is bent the 'hard way'.
Back to Main Page: Custom Stainless Steel Fabrication.
Further Suggested Reading: