Import China goods. Import world class engineering
Want to import China goods? Want world class engineering and manufacturing at China prices?
Why you need us.
Are you looking to have metal or plastic products manufactured in China? Are you looking for Western quality engineering or manufactured products at low China prices? Are you looking to import China products without first wondering whether the products you paid for will match the samples you received?
If so, then you've come to the right place.
The staggering rise in Chinese imports all over the world, and in the US, Europe and Australia in particular, has not just happened because of the low cost of Chinese labor. The real reason behind the Chinese domination of manufacturing and engineering is because of the incredible manufacturing supply chain and infrastructure in China coupled with the low labor cost. No other country in the world today has such an extensive manufacturing and engineering supply ch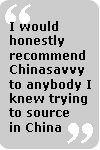 ain. No other country has suppliers in virtually every process or technical capability.
There's only one problem. China's 21st century rise in engineering and manufacturing only started about 50 years ago. Although the millions of factories are bursting with high tech manufacturing equipment from the US, Germany, Japan, etc., many of these factories still do not fully understand Western requirements in terms of quality. They have the capability to produce world class products and engineering but not the guidance or understanding of what quality Western customers are looking for.
This is why so many blue-chip companies from the USA, UK, Europe, Australia, etc., use Chinasavvy for the engineering and manufacturing projects and products. Chinasavvy, with its base in the heart of industrial China and its core manufacturing and engineering staffing, provides the quality engineering security Western firms rely on. Typical engineering manufacturing includes sand castings, permanent mold castings, diecastings, investment castings, robot welding, aluminum extrusions, CNC milling (3, 4 and 5 axis), CNC lath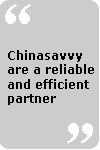 e work (CNC turning), CNC laser cutting, CNC metal bending, CNC metal punching, sheet metal fabrication, powder coating, etc.
Here are just some of the reasons our customers stay with us year after year:
We have 16 years' experience in sub-contract manufacturing and sourcing products in China.
Our main operations office is in Guangzhou in the heart of industrial China. Nearly 38% of all exports from China come from within a radius of 200 miles (320 km) from our office.
Our engineering staff and quality staff are headed by experienced and qualified Western managers, each leading teams of engineers.
We find the reliable China product suppliers – not just some manufacturers found on a China sourcing directory on the Internet. Each is audited before being added to our approved supplier database.
We are an ISO 9001-2008 accredited company audited each year by a US/UK accreditation organisation.
Our sophisticated QA system is bilingual and online to provide information to both customers and suppliers alike.
We negotiate in Chinese with approved suppliers to achieve the best price/quality ratio possible. 95% of our Chinese staff are bilingual (English and Mandarin Chinese). Some speak 3 or 4 local languages (the are over 40 dialect Chinese languages!) in order to communicate better with suppliers
Chinasavvy has its own assembly operation in nearby Dongguan.
We have an absolute passion for quality and excellence. We know that however inexpensive your product is when sourced from China, all benefits are lost if the product is un-saleable due to poor quality. See Quality
Weekly timeline report keeps you, the customer, completely up-to-date with the progress of your orders. See How we work

company profile

contact details


PO Box 3435
Frome BA11 2ZJ, U.K.


551 Turner Street
Auburn, Maine 04210, USA


400 Wuzi Building
Beijiaochang Henglu 12
Guangzhou 510050
P R China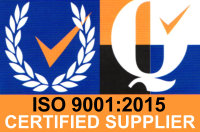 RAPID PROTOTYPING

Product development and prototyping in metals and plastics.
more info...

videos
See videos of all the major processes we work in. Click VIDEO to view videos. Click PAGE to open corresponding page:
Investment casting:
Sand casting:
Diecasting:
Permanent mold gravity casting:
Lost foam casting:
CNC laser cutting:
CNC bending:
CNC punching:
Aluminum extrusion:
CNC milling:
CNC lathe:
Robot welding:
Manual welding:
Powder coating:
Quality assurance:

World-class Engineering and Manufacturing
ChinaSavvy is a western-owned & managed sub-contract manufacturing and sourcing company providing world-class quality at China prices. We are driven by a passion for quality and excellence.